STATE ROOMS WITH TAPESTRIES, GARDENS AND COURTYARDS OF WAWEL, VISIT TO THE CATHEDRAL  
See one of the first UNESCO World Heritage Site from inside , unique collection in the world of XVI century tapestries of the King Sigismund II Augustus  especially verdures which show intriguing wildlife, woven in the best brussels manufactures. If not tired  and interested in art it is possible to enter the Crown treasury or see unique collection of XVII century Ottoman turkish tents. Visit to Wawel Cathedral and stroll in the romantic gardens and courtyards and have a cup of coffe or cold drink looking at  majestic view.
5 HOURS TOUR OUTSIDE CRACOW
Lipnica Murowana and Kalwaria Zebrzydowska
Come to Lipnica Murowana to see old wooden houses in the middle of the square and the church of St. Leonard – one of the oldest wooden monuments in Poland since 2003 on UNESCO list. Later one hour drive to Kalwaria-a charming and tranquil pilgrimage site, often referred to as "The Polish Jerusalem", famous of the mysteries of Lord's Passion performed every year during the Holy Week. Sanctuary was built in XVII by Nicolas Zebrzydowski. It's mannerist architectural complex and pilgrimage park on UNESCO list. After visit of Sanctuary  return back to Cracow or for additional request, it is possible to drive in 15 minutes to Lanckorona which is a tourist attraction for the well preserved 19th century wooden houses in its center.
4 HOURS TOUR OUTSIDE CRACOW
THE BIRTH PLACE OF JONH PAUL II AND SANCTUARY OF DIVINE MERCY AND SANCTUARY OF JONH PAUL II IN CRACOW
One hour drive to Wadowice a small charming town where the pope John Paul II was born and spent his childhood. A visit to the museum which was his family home before and now presents the life of JPII, see nearby Basilica where he was baptized. Drive to Sanctuary of Divine Mercy in Cracow-Lagiewniki to see the image of Jesus Merciful in convent chapel where Sister Faustina Kowalska used to pray and the new church consecrated in 2002 by JPII. Short drive to Sanctuary of pope John Paul II built in the years 2011-2016 and admire the mosaics of father Marko Ivan Rupnik, known mosaicist all round the world.
4
HOURS TOUR OUTSIDE CRACOW
Ojcowski National Park and Pieskowa Skała Castle
There are many ruins of the defensive castles located at the top of the mounts called the Trail of the Eagle Nests at Cracow-Częstochowa higlands. Some of the castles are still very well preserved like beautiful renesance castle at Pieskowa Skała located at the Prądnik Valley. Not very far from Pieskowa Skała Castle there is 30 meters high limestone stack called the Club of Hercules. There are many huge caves in the Prądnik valley and unique species of plants and animals especially bats that live in the caves. Most of them are in Ojcowski National Park.
Visit of the Kazimierz -Jewish Quarter with the possibility to enter active synagogue – the Remuh synagogue and other synagogues which were changed into museums. Retracing Steven Spielberg's "Schindler's List",  the streets, courtyard where the movie was filmed, visit of the Jewish Ghetto and Schindler's Factory Museum – which takes minimum one hour visit. At the end drive to Plaszów  concentration camp where one can see  monuments located in the middle of the green area where before was located the camp.
4
HOURS TOUR OUTSIDE CRACOW
Unique place, inscribed on UNESCO List. Underground chambers and chapels with many sculptures made of rock of spisa salt. Unforgettable excursion! Breathe deep in the mine as it is a good place to cure all kinds of respiratory diseases, allergies and many others. The tourist route is nearly 3 km long, and it is situated between 64 and 135 m below ground.
GOLDSMITHS' Guild in Cracow
THEIR WORKS AND VISIT TO PRESENT GOLDSMITH'S WORKSKOP WITH POSSIBILITY TO CREATE OWN JEWELLERY.
Stroll along old streets of Cracow and visit few  churches where one can see the example of goldsmith's work such as: embossing, carving and many others. Visit to one of the tiny museums which contains old religious items which are rarely presented to public. The last atraccion of this tour will be the possibilty to create own piece of jewellery in the workshop of one of the known  Goldsmith in Cracow.
ONE DAY TRIP OUTSIDE CRACOW
Black Madonna Shrine of Jasna Góra in Częstochowa
The most important pilgrimage destination for Roman-Catholics in Poland. This defensive shrine, attracting every day thousands of pilgrims, is famous for its miraculous icon of Virgin Mary of Częstochowa ( known as Black Madonna). There are also museums where you can see many old valuable votive offerings, jewelry donated by kings and queens since XIV century, various dresses of Black Madonna made of coral, diamonds, amber and many precious stones, golden rings and others.
ONE DAY TRIP OUTSIDE CRACOW
UNESCO wooden churches route in Beskidy mountains
Drive to Binarowa church of Saint Michael the Archangel which unique polychrome makes impression on everyone who enters the church. Stop in Sękowa church of SS. Philip and Jacob to take a picture of this wooden gem. Admire the beauty of Beskidy Mountain to reach Powroźnik the oldest Greek Catholic Church with iconostasis and many icons. Now it is changed into Roman Catholic church. On the way back stop to take pictures of  picturesque valleys and mountains.
Dunajec river gorge rafting trip
A  picturesque drive through the mountainous Podhale – the highlanders region. Raft trip made by raftsmen who steer safely between the white rocks to admire the astonishing beauty of the Pieniny Mountains and the gorge of the Dunajec River. On the way it is also possible to see a masterpiece of wooden architecture from XV c. the church of Archangel Michael in Dębno inscribed on UNESCO List, accessible only when it doesn't rain.
Two or Three days trail
of street art in Poland
See the art which is in perpetual change and diversion. The richest and the biggest collection of murals are  in Warsaw and in Silesia especially Katowice –and neighborhood and other cities like Lódz,  Wrocław and Gdynia and Gdańsk.  Each street art tour can be different because some works disappear and new ones appear all the time.  Murals like the neighborhood, one painting attracts another. Some artists want to stay anonymous but some are well known and can be spot at the work. See Kraków street art at Kazimierz district and Podgórze and Nowa Huta. Some controversial murals – one of them painted by Bolognese artists called Blu and the oldest ones for instance of Jan Suchowiak from 1960 ties.
THREE DAY TRIP OUTSIDE CRACOW
Northern gems of Poland:
Toruń, Malbork and Baltic Seaside
Stroll in the old medieval streets and squares of Toruń expanded by Teutonic Knights  in XIII century, see house where Nicolaus Copernicus, the know astronomer who "stopped the sun and moved the earth" was born  and visit Gingerbread Museum. Sightseeing of the largest gothic castle built by Teutonic Knights in Malbork using red bricks, served as their main seat. It was the largest fortress in Europe never conquered. Both Torun old town and Malbork castle are on UNESCO list. Visit of the Baltic seaside  and metropolitan area of three cities Gdańsk, Gdynia and Sopot and beautiful peninsula de Hel
THREE DAY TRIP OUTSIDE CRACOW
Eastern gems of Poland:
From Zamosc to Bialowieza, land of catholics, orthodox, muslims and jews
Sit at the main square of Zamosc and admire the beauty of the original  "Renaissance Pearl" founded in 1580 where east and west co-existed peacefully for centuries. Stop in Lublin which was immortalized by  Issac Singer in the novel "The Magician of Lublin". Before  WWII in Lublin lived big community of Jews, many of them were exterminated in Majdanek, Bełżec and Sobibór concentration and extermination camps. See the oldest nature reserves around Białowieża where the largest European bison herd can be observed. Retrace the Podlasie Tartar Trail – several villages associated with the culture and customs, religion and cuisine of Muslim Tartars. See numerous orthodox churches around Białowieża, Hajnówka or Białystok
Genealogy travel, ancestry travel, searching the roots to create family tree. Before you plan your trip prepare as many documents as possible, copy them and send them to us. Doesn't matter you don't know the language the document is written: Polish, German, Russian or Latin, we can sent it to genealogist who will be able to read it. We can check archives, contact people -it is done mostly by emails and by phones, it can take time but the results can be outstanding. Second part of this research is the trip to see the places and people who are your far relatives, and you can experience the unforgettable filling that the missing part you searched was found.
Educational tours for schools, students, tours on special request. We can arrange lectures for special topics. The most requested ones are related with WWII, everyday life in communist era, customs and tradition in Poland- for example making Christmas ornaments, visit painted houses in Zalipie, see handmade palms during Palm Sunday, participate in processions and local traditional feasts. We can visit stain glass workshop, observe the work of sculpturer, goldsmith and create own piece of art.
Polish food tour. Try some polish specialties. See local, colorful food markets at the city and in the countryside. Learn how to make few typical polish dishes: mushroom soup, dumplings, cookies with rose and collect the food recipes. Know Cracow bagel, Krakow pretzel called locally "obwarzanek". Try typical polish liquors like bison grass vodka, fruit liquors and hear the stories how to drink them.  And finally the desserts! Visit the place where you can try traditional Jewish sweets, John Paul II -pope's cream cake and best ice-cream called in polish "LODY" in town.
I'm professional guide, member of FEG and Federation of Cracow guide associations who cooperate with many licensed guides in Europe from 1997.
We can provide number of options to choose: private tours, group tours, help with finding accommodation in Krakow and other places, airport and door to door transfers.
We specialize in private and small group holidays to Krakow, Poland and Berlin, Vienna, Prague and Budapest.
Our experience and knowledge can bring the finest private and small group adventures available.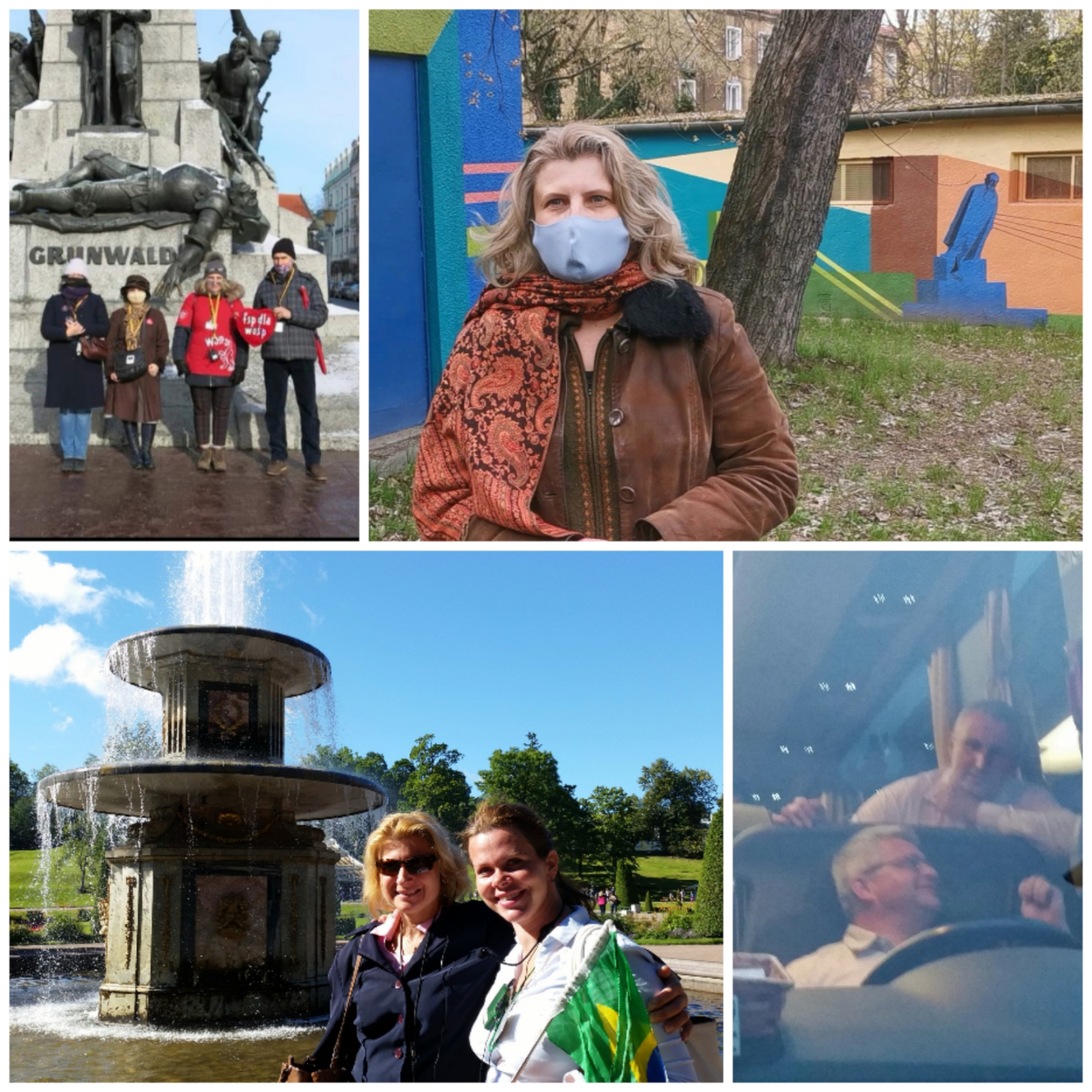 Tours in English
Visit Cracow and Poland with a highly proffesional
and personal attention
I'm the licensed city guide in Cracow since 1995, and tour leader since 1987, graduated from Jagiellonian University in English and Roman Languages in linguistics and literature. One of my hobbies, when I don't work as a guide, is drawing and painting polish landscapes and charming places of my town. It will be a pleasure to take you for a stroll in my city or for a trip to many interesting places around Cracow.